1 package, 1 price. $2650.

THIS IS YOUR LOVE STORY VIDEO. This 45-minute high-quality production covers it all in our unique, award-winning style. We will start our camera well before your ceremony and stay with you through the entire day. Our cameras are non-intrusive and guest-friendly. Your guests won't even know our cameras are on. Our style is so natural, they often think we're just part of the family!



THE STORY OF HOW YOU TWO MET and how he proposed. Show this 8-minute beauty at your reception and/or rehearsal dinner. Your guests will love knowing your story! This is a priceless keepsake to reminisce thru the years as it increases in value with passing time. We film and create this well before your wedding day.

YOUR DAD (or MOM)  WILL WATCH THIS ONE a million times during those late nights when he can't sleep. We create this one after your wedding day, using old photos and wedding day footage of you and your dad.. You can surprise him with this…he will feel your love like never before.

THANK YOUR MOM & DAD for all the years. Your wedding is a turning of a new chapter in your life. It's a perfect time to stop and thank them for bringing you to this point. Your parents will feel your appreciation. This 8-minute film can be a wonderful surprise to show at your rehearsal dinner with family present! This one is filmed well before your wedding day.

YOUR WEDDING DAY WHITTLED DOWN to a ten–minute jewel you can post on social media or download to your phone.
This is a great summary of your wedding day, from getting ready to your grand exit from your reception.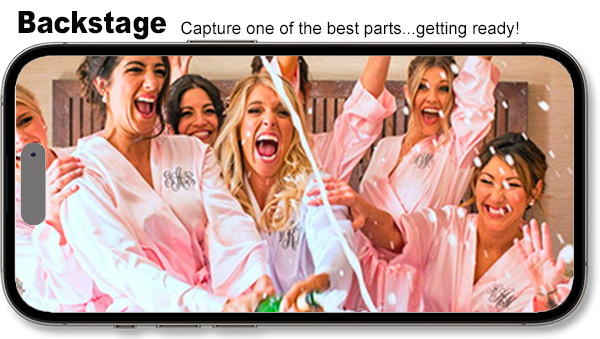 With the Backstage Side Dish...
OUR CAMERA STARTS ROLLING early; two hours before the start of your ceremony.
This is a favorite with our couples because it captures the synergy in the air as our camera visits both the girls' and the guys' sides as the excitement grows.
When ordering our MAIN COURSE for $2650, here's what you'll get
Camera coverage of your entire wedding day, from your getting ready to your reception exit.
Unlimited camera time on your big day (no hourly charge).
Lapel mic to pick up your ceremony vowS.
Your ceremony will be captured from two camera angles.
A final production we call LOVE STORY, delivered in vivid HD in formats of your choice.
Best of all, an award-winning productions filmed and created by someone who actually cares. Imagine that!
And then you can add as many Side Dishes to your Main Course as you like! Side Dishes are Yummy!